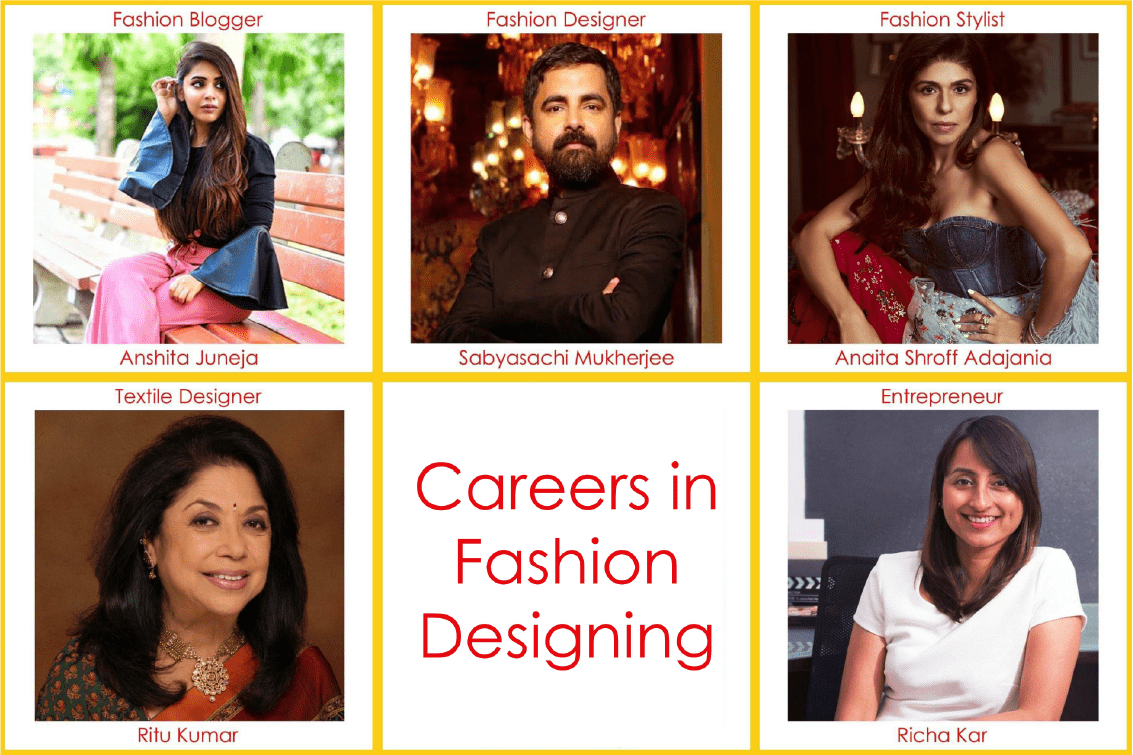 Textile Designers
Textile designers are one of its kind. They are involved in coming up with innovative ideas and developing commercially-appealing designs and prints for a variety of fabrics and clothing materials. They are vital for pushing the design process forward.
One of the Famous Indian Textile Designer is Ritu Kumar who has the great understanding of innovative use of traditional crafts in the textile industry.
Fashion Stylist
Fashion Stylist career provides exciting opportunities to share your passion for style with a variety of interesting people. Good fashion stylists know how to accentuate the positive attributes of the people they dress. Choosing the right outfit to flatter someone in a way that is appropriate for each event—is an Art. They require extensive knowledge of the fashion industry.
"Fashion stylist is all about living and loving fashion" says, Anaita Shroff who is one of the famous personality and a well- known fashion stylist.
Fashion Entrepreneur
Fashion entrepreneurs push the global of fashion industry forward, through design innovation and new business models. Beginning, running and growing a business is a tedious work. With so many difficulties and stress, it becomes hard to be a successful entrepreneur. There is a secret formula of success. Certainty is a piece of any entrepreneur's prosperity. As a fashion entrepreneur you should be adaptable – ready to adjust to the changing trends of your business.
Richa Kar, Co-founder of Zivame is one such example of a successful fashion entrepreneur.
Fashion Blogger
Fashion bloggers have a point of view, a certain taste and a unique way of presenting and documenting fashion – whether visual or written. To become a fashion blogger these days you need to have a complete knowledge of Fashion.
A splendor with brains, Anshita Juneja is the editor and founding father of the blog 'Vanity No Apologies' and one of the well known fashion blogger. Interested in pursuing fashion blogging as a career? Then its better to have 360 degree knowledge about the fashion world, right from how the garments are designed to how they're made to how the finished product looks!
Fashion Designer
Fashion designing is one of the most lucrative, appealing, glamorous and exciting career option in today's world. If you have a penchant for creativity, style and originality, a career in fashion designing is the one tailor made for you. Fashion Designers are considered to be the heartbeat of the fashion world. Fashion Designing is bound to open up a plethora of opportunities for young aspirants. A designer takes part in just about every aspect of bringing fashion to the public.
Some other careers options post completion of the course are as follows:
Costume Designer

Fashion Illustrator

Visual Merchandiser

Embroidery Designer

Fashion Buyer

Wardrobe Consultant

Retail Manager

Fashion Forecaster and many more

A student can opt for
to start their journey in the world of Fashion.
For more details, contact us on 98190 24440.